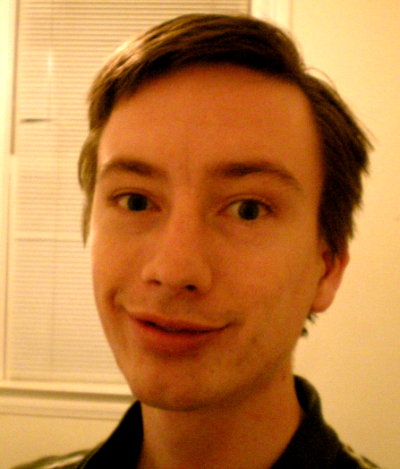 James Andrews
Email: zaphos (at) gmail . com

Hi, I make video games and artist tools! I was a PhD student advised by Carlo Séquin. I wrote a master's thesis for Avideh Zakhor before that. In undergrad I was a computer science major at Carnegie Mellon University. I have a blog that is mostly filled with doodles and pictures.



Selected Works
Academic:
Games*:
Fiction**:
James Andrews, 2008. Dystopia. Gargoyle Magazine.
James Andrews, 2007. Chick Magnet. Fox Cry Review.
James Andrews, 2007. Futureware 2.0. Whiskey Island Magazine.
James Andrews, 2004. Surviving the Seventh. Pindeldyboz webzine.
James Andrews, 2004. Fishing Humans. Whiskey Island Magazine.
James Andrews, 2004. The Good Cultist. edifice WRECKED webzine.
Animations:
Eye to Eye (2007) -- a short animation group project I did for a class at CMU. I did the story and storyboard for this one, as well as a good deal of animation, and a bit of modeling (using Maya, primarily).
Free (2006) -- an earlier short animation group project I did at CMU. For this one I mainly did peep decapitation scene (did the animation and made a custom maya shader for it) and the bird's shocked reaction. (Again, done with Maya)
GSI-ing: I've been a GSI (aka TA) for CS184 Computer Graphics three times, and worked on developing the assignment set+framework for the class. Here's the latest assignment set I helped create.

* my games are sometimes linked to my forum nickname 'Zaphos', which I thought sounded really cool in middle school and haven't changed since.
** note that some of my fiction is actually published under the name James Lawder, because pen names are awesome. I'm not even sure which ones I did that for now, though, so I list it all under my actual name.
Apparently I have issues with nicknames.

Some extra stuff
More games: Another animation: The Manlauncher (2009) -- a (translated) poem by Henri Michaux which I read and animated as a solo project using Flash.

Course-related processing applets:
(these are all java applets made with processing)


(<- click)